Leave the hustle and bustle of city life behind
The Santerno Cycle Route links six municipalities, offering plenty of opportunities to take a detour and explore every corner of this exceptional area.
So jump on your bike or put on your walking boots! Whether alone or with friends or family, hiking or mountain-biking, there's a unique landscape just waiting to be discovered.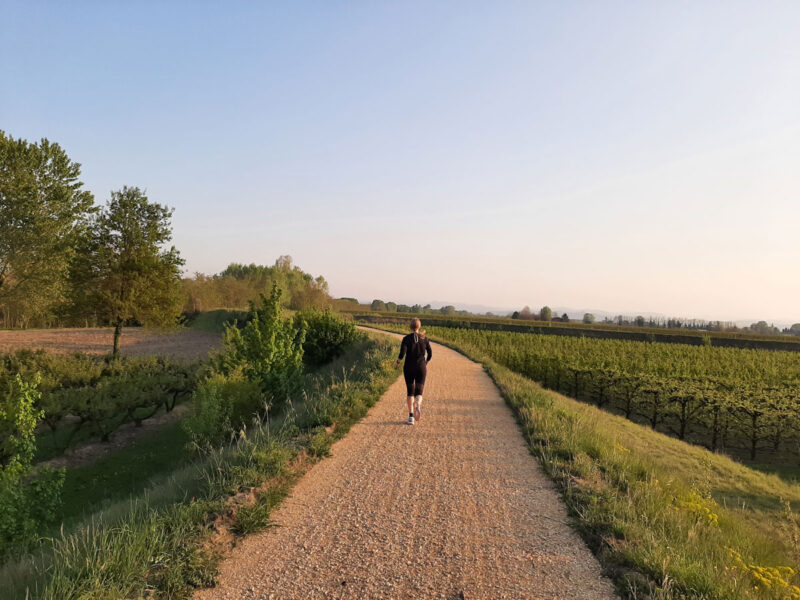 The Cycle Route in Mordano
Saddle upand venture onto the Romagna4Bike MTB&Gravel Trail, pedal along the paths of the Vena del Gesso Romagnola Regional Park or tackle the road route used for the 2020 World Cycling Championships.
Train with instructors at the MTB schools and learn the secrets of the land in the company of local cycling tour guides.
Put on your hiking shoes and explore trails that wind upward through sparkling gypsum outcrops to viewpoints that will take your breath away.
In addition to the 44 km of the Santerno Cycle Route, you can also venture along the trails of the Vena del Gesso Regional Park. At Casalfiumanese you'll find the CAI (Italian Alpine Club) Luca Ghini trail, which starts from the village and climbs up lunar-like claystone ridges; just a few km away in Fontanelice, you can hike along the WW2 Gothic line ridge and reach Monte Battaglia and the church of Valmaggiore. In Castel del Rio, expert bikers can enjoy awesome climbs and descents in the midst of centuries-old chestnut groves.
Down in the valley, motorsports enthusiasts can visit the Enzo e Dino Ferrari racetrack and the adjoining museum.