Food and wine: get tasting!
If you really want to get to know the area around the Santerno Cycle Path, enjoying the rich local food and wine culture is a must.
Local restaurants, osterie and agriturismi offer a delicious repertoire of tradition. Their fresh pastas – hand-made by the "arzdore" the house 'madams' whose skills have been passed down through the generations – include garganelli, passatelli, tagliatelle, cappelletti, tortellini and tortelloni and many more!
Menus draw on close ties with the land, often reflecting the seasons. For example, the autumn woods offer up truffles and mushrooms, most notably the delicious porcini of Castel del Rio. Then there's the Romagna scalogno (shallot), the rigorously cold-pressed extra virgin olive oil and the inviting red and white wines.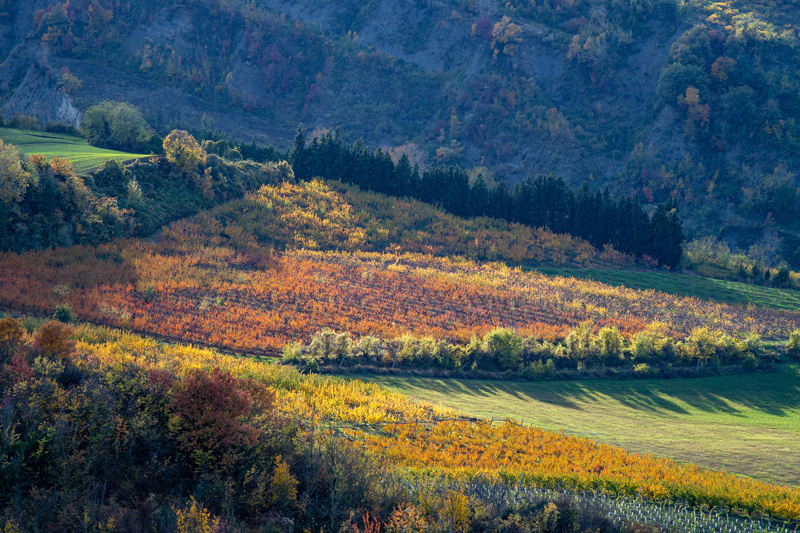 The Santerno Valley vineyards
This is a major wine-making area, especially in the rolling hills outside Imola and further up the valley: here, the dominant reds are Sangiovese and Cabernet Sauvignon, while Albana and Pignoletto represent the local whites.
Further on, the vineyards give way to orchards: the Casalfiumanese and Bella di Imola apricots, nectarines and cherry trees, which in early spring colour the gullies with their bright, fragrant flowers.
Stop off at the farms and wineries along the Santerno Valley to taste the fresh local produce and discover how it's made.
Last but far from least comes a must-eat on any tabletop (or picnic!), a 'native' of the border area between Emilia and Romagna: the Piadina. The classic way to enjoy it is stuffed with soft squacquerone di Romagna cheese, prosciutto and rocket. And as you travel along the Santerno you'll find plenty of other recipes too, all full of seasonal delicacies.